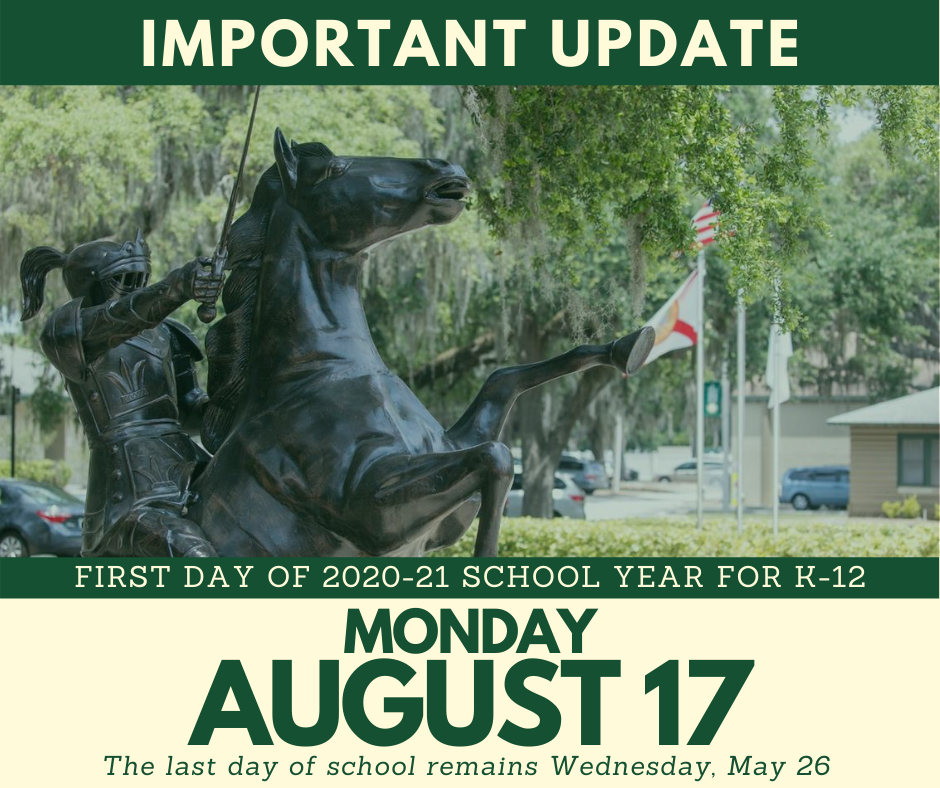 Dear Families:
After evaluating the upcoming decision by Pinellas County Schools to postpone the start date for school opening, and to provide our K-12th teachers/school with a little more time to finalize and implement our latest COVID-19 guidelines/protocols, Keswick will be moving the start date for K-12 from Monday, August 10 to Monday, August 17. Hence the orientations for K-12 students will also move from Friday, August 7 to Friday, August 14.  All other scheduled dates (preschool, athletics, prayer walk, new family dinner) have not changed. See the schedule below.
For further guidelines on school opening procedures directly related to Covid-19, please watch the detailed video sent to your email on July 21.
*Please note: Due to KCS standards with instructional hours, our end of school year date has not changed. It remains Wednesday, May 26.
SCHEDULE
Family Work Day, New Family Dinner, Prayer Walk – Saturday, Aug. 1
US Athletics – official practices and tryouts for fall sports start Monday, Aug. 24
US Athletic Rally – Friday, Aug. 7, 5:30 for MS, 7:30 for HS
Preschool Orientations – Friday, Aug. 7
Preschool first day of school – Monday, Aug. 10
K-12 Orientations – Friday, Aug. 14
K-12 first day of school – Monday, Aug. 17
On August 14, Kindergarten orientations will be at 9, 10, 11am, New 1st – 5th graders at 9am, and Returning 1st – 5th graders at 9:30, 10:30 am. More specific information will be in your K – 5 child's welcome letter to be mailed the week of July 27. All upper school orientation times remain unchanged, as only the date changed for this – All 6th and New 7th – 12th graders at 1pm, Returning 6th – 12th graders at 2:30pm.
Thank you once again for your grace and understanding as we move forward in a very fluid situation. We firmly believe that after much prayer and research we will have a blessed and successful school year.
God bless you and we will see you soon!
Serving Him,
Nick Stratis- Superintendent