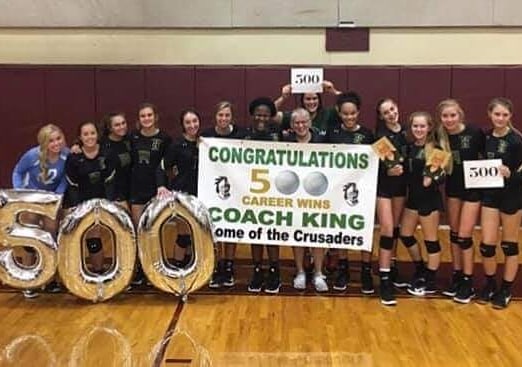 At last night's girls volleyball game, Coach King reached a career coaching milestone: 500 volleyball wins.
Just a few years ago, she crossed this achievement in girls basketball as well, and with that, enters an elite group of coaches who has done so in both sports.
We are so proud to have her as our coach and (as countless athletes who have played under her leadership would say) as a spiritual mentor and encourager as well. 
Check out an article about this milestone in the Tampa Bay Times here: https://www.tampabay.com/sports/high-schools/2019/09/27/karrmayne-king-reaches-500-wins-milestone-in-volleyball/?outputType=amp&__twitter_impression=true

And a feature from WSTP Channel 10: https://www.wtsp.com/mobile/video/entertainment/places/bobby-lewis-on-the-road/2-sports-1000-wins-longtime-keswick-coach-sets-a-new-mileston/67-aca096b9-b5dd-4f90-b93b-b01dc8409e87
CONGRATULATIONS, COACH KING!
#5🏀🏐