Keswick Christian Athletic Director Karrmayne King announced today that Tracy Paulton has been named head varsity baseball coach for the Crusaders, effective immediately.
Paulton has been the lead assistant coach for the Crusaders for the past four seasons and played an integral role implementing the teams "Row the Boat" culture, emphasizing team growth and development with a Christ-centered focus. During his time at Keswick, the Crusaders have posted 70 wins, a 37-3 district record, earned four-straight Regional appearances and won two District championships.
"We are excited to have Coach Tracy Paulton lead the Keswick baseball team," King stated. "Coach Paulton brings a wealth of experience and a proven commitment to the growth and development of all aspects of Keswick baseball on the field but equally important off the field."
Paulton brings more than 20 years of high school coaching experience in Pinellas County working as an assistant at Seminole High School, Calvary Christian, Countryside, as well as Pinellas Park before he joined the Crusaders family. Throughout his tenure as an assistant, Paulton has been part of four coach of the year award winning staffs.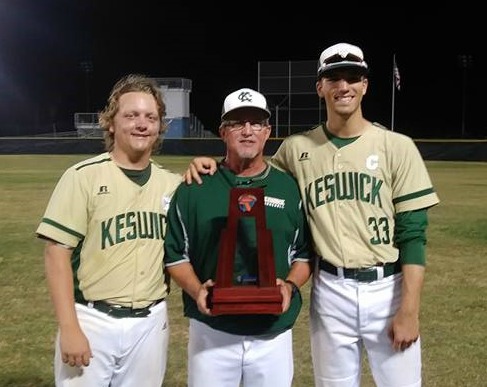 Paulton had the opportunity to work as an assistant with current Calvary Christian Head Coach Greg Olsen as part of the nationally ranked Seminole High School teams as well as at Calvary Christian.
Olsen stated, "Coach Paulton is a hardworking, experienced baseball coach. Keswick made a great hire! Tracy is loyal and will value his player's development before the results on the scoreboard. Most important, Coach Paulton will make the Gospel priority number one."
Additionally, Paulton worked alongside former MLB player and current Milwaukee Brewers hitting coach Darnell Coles while at Countryside.
Coles, who played 15 years and has been a professional coach for 10 years, said, "I've known Tracy for over 15 years and watched him grow as a man and as a coach. Sometimes you work a lifetime trying to figure out God's plan for you. You hear the words, but you never slow down to understand the message. We have coached together for years and now it is his time. These young men are blessed with a great leader. Congratulations to Tracy and I know he will always continue to be a Champion for Jesus!"
Paulton will take over for Daniel Samaritoni, who has elected to step down as head coach after three and a half seasons directing the Crusaders.