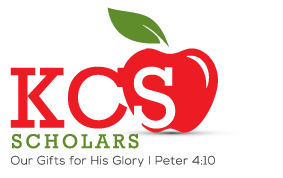 KCS Scholars is a program that encourages students to enrich their regular course work by going well above the standard graduation requirements.
KCS Scholars are required to:
Complete a career internship
Take a minimum number of Honors AP classes
Maintain a minimum 3.5 weighted GPA
Present a research topic before a panel of faculty and administration
Conceive and develop a project to address a school need
Participate in a senior exit interview
Provide free tutoring for students struggling academically
Complete 120 community service hours
Scholars that successfully fulfill these rigorous requirements enjoy:
Special acknowledgement at graduation
An end-of-year banquet celebration to honor each student's specific accomplishments
Communication to the colleges and universities the scholars are applying, to inform of their accomplishments
The KCS Scholars program represents the highest in academic achievement at the High School level. Do you have what it takes?
For more information, contact Karen Yale at (727) 393-9100 or kyale@keswickchristian.org.